Our Team
Meet Your ACEs (Archways & Ceilings Experts): We're a group of guys that love what we do.  We take pride in prefabbing cool stuff that adds the "WOW" factor to our homebuilders' homes. 
We like to say that we're in the business of curve appeal.  It's like curb appeal, but only when you walk in a home. 
While we don't have the room to show off our entire team, here's our core team that at some point you'll either talk to, text, or email.  It's always nice to put a face with a name.  If you're in the area, drop on by and we'll go for coffee.  Better yet, we'll grab a beer.
Mike Barry | The Inventor

Mike, a former framing carpenter in the 1980s, knew there had to be a better way to build archways and ceilings than constructing them on-site.  In 1987, he invented the new solution to the age old problem: prefabricated archways and ceiling kits. Since then, builders and framing contractors have approached Mike for solutions to the more sophisticated archways, ceilings, and wall designs that have become popular throughout the years.  His inventions have led to the robust product line we have today. With his passion to create coupled with his love of mathematics, Mike continues to doodle on his morning coffee napkin.
Favorite Beer: Sculpin IPA
Favorite Movie: The Big Lebowski
Favorite Song: Cherish by The Association
Favorite Past Time: Acoustic Guitar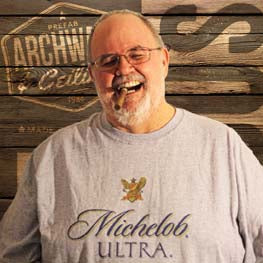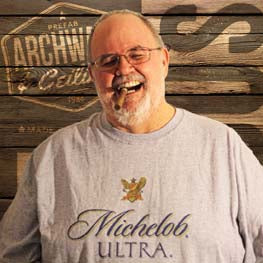 George Goodwin l The Banker

Behind every good business is a frugal money man.  George, our banker, keeps the business lean and mean.  With his foresight and experience, George forecasts, creates budgets, and plans for the unexpected.  With his conservative economic approach to business, Archways & Ceilings remains a solid USA manufacturing company that invests deeply in R&D, continuous improvement and lean manufacturing despite the multiple recessions in his tenure.  His decisions have elevated Archways & Ceilings to the worldwide benchmark for curved framing.
Favorite Beer: Schwabenbrau
Favorite Movie: The Searchers
Favorite Song: Seven Bridges Road
Favorite Past Time: Books & Movies
Russell Scott l The Maker
Russ, the maker, makes complexity simply simple.  As chief designer and operations manager, he makes your hard-to-build stuff into a simple paint-by-number kit.  His ingenuity in design, accompanied with his pragmatic approach to operations, keeps Archways & Ceilings centered.  If you ever wondered who made our "Made Easy" claim a reality, it would be him.  His love for automation and his passion for continual improvement has reclassified our manufacturing methods as state-of-the-art.  Never content, he's always looking for a better, efficient, and cost saving way to advance Archways & Ceilings.
Favorite Beer: Sierra Nevada Pale Ale
Favorite Movie: The Prestige
Favorite Song: Journey by Michael Montes
Favorite Book: How the Mind Works
Wesley Scott l The Wrangler
Wes is a wrangler, grabbing on to his customer's visions and making them a reality. You'll always find him going the extra mile for his customers.  As chief sales manager, he leads his team to be neither the used car salesman nor the over the top, up in your face, aggressive sales pitchy guys. He leads his team to be more of a friend who's trying to help you achieve the curved archways or ceiling designs you have in mind.  He's passionate about his projects and sincerely wants his customers to succeed and surpass their competition.
Favorite Beer: Dos Equis
Favorite Food: Loaded Nachos
Favorite Song: Dirty Heads – Vacation
Favorite Book: Ready Player One
Matthew Scott l The Conductor
Matt is the conductor, directing the day-to-day operations of Archways & Ceilings. He works closely with the sales, operations, and the finance teams to harmoniously weave them together to offer customers great products, great customer service, and affordable pricing.  He's a big picture guy with a deep understanding of the details that make up the big picture.  Customer centric, perfectionist driven, and a love for manufacturing fuels his passion for Archways & Ceilings.  Oh, and he loves a good beer!

Favorite Beer: Deep Ellum IPA
Favorite Movie: Shawshank Redemption
Favorite Band: The Lumineers
Favorite Past Time: Boating
Jim Scott l The Handler
Jim is the handler, he works closely with customers and communicates their vision to our design, machining and production teams.  His straight forward approach with our customers and our internal teams helps customers achieve their vision.  Jim also handles invoicing and receivables.
Favorite Beer: Guinness
Favorite Food: Steak & Eggs
Favorite Song: Take It Easy by The Eagles
Favorite Past Time: Smoking Cigars
Justin Regan l The Enforcer
Justin, the enforcer, is the head of production.  All the moving parts in the manufacturing process are his responsibility.  From pre-cutting, to curve making, to machining, to post cutting and shipping, he's the high-strung guy who keeps the jobs moving and out the door.  He's the "I can do it" guy who knows how to get it done.
Favorite Beer: Shiner Bock
Favorite Food: Bacon
Favorite Movie: Boondock Saints
Favorite Hobby: Golf
Patricio Garcia l The Specialist
Patrick, the specialist, is our versatile hard-working pre-cutter, post-cutter, delivery driver, arch maker or any other job that needs to get done. On a regular day, you'll find him bouncing around the shop from job-to-job to get our orders out on time. His easy going personality combined with his uncanny ability to quickly master any job keeps our production running smoothly.
Favorite Beer: Corona
Favorite Food: Cheeseburger
Favorite Movie: Scarface
Favorite Sport: Football
Richard Moore l The Hunter
Richard Moore, the hunter, is our go to sales guy in Central Texas.  As a framing contractor along with being one of our sales guys, he has firsthand experience with our products.  With his targeted knowledge, he's a great source of information.  Never afraid to start up a conversation, whether it be about archways, framing, or hunting, you may leave with more information than you wanted, such as he still has dried deer blood on his boots from last week.
Favorite Beer: Bud Light
Favorite Band: Granger Smith
Favorite Hobby: Hunting
Favorite Past Time: Camping in Port Arkansas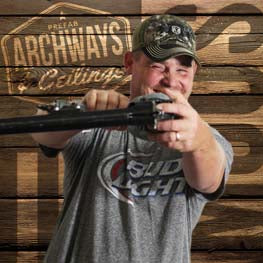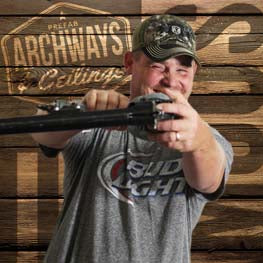 Jerimy Diehl l The Carpenter
Jerimy, the carpenter, is our lead installer in the DFW metroplex.  He's also the guy you see in most of our YouTube videos.  Simply give him a nail gun, stand back, and then watch as he knocks out 3 large groin vaults in less than 3 hours.  There is fast and then there's Jerimy.  Don't be fooled: just because he's faster than fast, doesn't mean that his work isn't top notch.
Favorite Beer: Bud Light
Favorite Food: Prime Rib
Favorite Movie: Furious 7
Favorite Song: TNT by AC/DC
Trey Pross l The Guy
Trey, the guy, has been working with Archways & Ceilings since 2019. He quickly rose through the ranks and now is one of our lead cutters. Trey has proven that he is an essential part of our operations by plugging himself into many different roles to get our projects made, cut and shipped. You can always find him in our shop with a big ole smile. His positivity is contagious, what can I say? He's the Guy
Favorite Alcohol: Jägermeister
Favorite Food: Taco
Favorite Movie: Troy
Favorite Past Time: Gaming
Daniel Washington l The Wizard
Daniel " The Wizard" Washington is a legend among arch makers. His go-getter attitude coupled with his wizardry, make for top notch quality arches at production speeds. Daniel leads a group of arch makers that are ready to preform and produce often causing our sales team to work harder to keep the flow of arches up for our fast paced Wizard.
Favorite Drink: Dr. Pepper
Favorite Food: Turkey Sub
Favorite Movie: Blood In Blood Out
Favorite Song: Viral Moment by Lil Durk
Favorite Past Time: Making Sandwiches
Kathi Maher | Shop Mom
Kathi, our shop mom, came to us at the perfect time. We were in need of someone who could keep our home in order by helping us around the office and looking over the guys in the warehouse. Prior to coming to Archways & Ceilings, she taught K-5th grades for 36 years before retiring. If you ever get a chance to talk or meet Kathi, you will know she is not one to sit idle. So instead of throwing in the towel and sipping Mai Tai's by the pool, she decided to get crazy and come with Archways & Ceilings. Give us a call, I bet she makes you smile.
Favorite Drink: Mai Tai
Favorite Sport: Soccer
Favorite Music: Country
Favorite Authors (fancy): Jennifer Ruff & Diane Kelly
Loves: Hanging with the grandkids, reading, board games, & Disney
Steven Bosillo | The Chef

Steven, the chef, is responsible for carving up all the archways, ceilings, and wall designs pieces that work seamlessly together to complete a kit. As an Archways & Ceilings Expert (A.C.E.) he's responsible for cutting jobs to specifications, quality control, and assisting in the entire production cycle. His easy-going nature and strong work ethic make for a mighty fine Chef. With only a few ingredients, Steve can whip out some pretty amazing kits.

Favorite Beer: Pacifico
Favorite Food: Italian
Favorite Song: Somebody's Baby by Jackson Brown
Favorite Movie: Wolf of Wallstreet
Favorite Hobby: Cooking
Jack Regan | The Teach

Jack, the Teach, spent his time in California as a Teacher before retiring to Texas. In 2019, Jack decided he was not ready to ride off into the beautiful Texas sunset just yet, so he joined Archways & Ceilings. Day to day you can find Jack overseeing our CNC & Assembly stations. If you ever catch Jack in the shop, be sure to check in for the joke of the day.
Favorite Alcohol: Merlot
Favorite Food: Pulido's Mexican Restaurant
Favorite Movie: Gladiator
Hobby: Gardening
Tracy Stuart | The Hitch-Hiker
Tracy, the Hitch-Hiker, floats around the shop helping the assemblers, cutters, shippers, & with specialty projects. If you need help, grab the Hitch-Hiker, he'll get it done.
Tracy was a long time electrician looking to change it up, so he decided it was time to cross the line and become a carpenter.
If you ask him how he likes being a carpenter, he will respond with a smile and a thumbs up!

Hobbies: Working on Cars
Favorite Song: Porch Honky by Moccasin Creek
Favorite Movie: Road House
Favorite Alcoholic Drink: Ranch Water
Our Story
We've come a long way since our founding in 1988.  And to think that it all began with 3 guys in a garage making window archways in their spare time. 
From a 400 sq. ft garage to over 30,000 sq. ft of manufacturing space, our story, like most successful small businesses, is fueled by passion, hard work, and sacrifice.
After 3 decades in business, we still take the time to remember where we came from.
The Beginning: In 1988, Mike Barry, a framing contractor, developed window archways due to the many problems he experienced building these in the field. After patenting his idea, he set up a business with George Goodwin and began making window arches in his spare time for framing contractors in Southern California.
Growth: For the first sixteen years, Mike and George slowly began building their business by word of mouth. With the immediate success of the window arch, Mike began developing soft archways, half-circle archways, elliptical archways, balcony rims, barrel ceilings, and dome ceilings. By the end of the 1990s, Mike and George had become the benchmark in Southern California for prefabbed archways & ceiling kits.
Plant Expansion: As the 1990s came to a close and the Southern California market became saturated with prefabbed archways and ceiling kits, Mike and George began looking for growth opportunities. In 2004, Mike and George licensed Matthew, Wesley, and Russell Scott to begin manufacturing their patented product line in Oklahoma. Servicing both the Oklahoma City and Dallas/Fort Worth markets, the Scott brothers, after 8 months in Oklahoma, relocated to a larger warehouse in Dallas/Fort Worth, TX.
New Blood & New Approach: With the advent of new blood, the Scott brothers stepped outside the word-of-mouth marketing approach that had been the foundation of growth since 1988. For the first time, Archways & Ceilings began to exhibit at local builder shows and look for alternative marketing approaches that would help them take their local business to a national business.
From Local to National: In the face of the Great Recession, the Scott brothers were forced to make the biggest and most strategic decision they've ever encountered: whether to down-size and ride out the recession or expand nationally. They chose to expand nationally by formulating a new business plan and revamping their website. Every aspect, from measuring, installing, and drywall was broken down into quick and easy steps with detailed instructions. Web traffic exploded and sales continued remarkable growth as videos and newsletters gained traction. The national dream had been realized.
Internationally to Canada: As the Scott Brothers worked to expand and build a customer base nationally, several builders in Canada began to inquire if they could get archways and ceiling kits in Canada. Over the course of a few months, Archways & Ceilings became a Non-Resident Importer with the Canada Revenue Agency and added several local reps to help promote their products in Canada, thus, effectually allowing them to do business in Canada as if they were Canadian.
Do-It-Yourself Line of Products: Since 1988, Archways & Ceilings has been predominately a direct-to-builder manufacturer. As more and more Do-It-Yourselfers called with requests for quote and orders, the Scott Brothers built 4 kits that were specifically designed, flexible, and easy enough for Do-It-Yourselfers (www.ArchKit.com). In 2013, Home Depot began selling these 4 kits online, and the Universal Arch Kit became an instant favorite, and continues to get amazing reviews with a solid 4.9 out of 5 rating.
Bigger & Better: In early 2014, the Scott brothers moved down the street to double the size of their manufacturing plant along with increasing their investment in automation equipment to expand product development and reduce labor costs. As a result, several new products have been added to their robust product line: astroid curve soffits, elliptical groin vaults, range hoods, fireplace canopies, and the Cyclorama Infinity wall.
From Good to Great: As the Scott brothers product line continued to grow, they decided it was time for a new website that could give their builders' a better experience along with giving them a robust infrastructure that could automate monotonous tasks. In October, Archways & Ceilings launched a new website with 8 archway kits, 12 ceiling kits, and 6 wall design kits with an easy-to-use interface that puts the freedom of complete customization in the hands of their builders and contractors.